WMGS July Monthly Meeting
Wednesday, July 10, 2019 from 6:30 pm

-

8:30 pm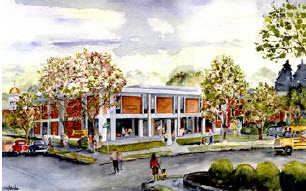 July 10, 6:30 p.m. – – Not July 3, 6:00 p.m.
Our July 10th presenter will be Kathleen Reilly, local History and Melville Collections Supervisor at the Berkshire Athenaeum in Pittsfield, MA. Kathy's presentation will focus on the extensive and rich collection of genealogical resources at the Athenaeum.
The Berkshire Athenaeum has long been a popular place to conduct research, because of its extensive New England state resources, and French-Canadian parish repertoires and other resources.
When the Sylvio Conte Branch of the National Archives in Pittsfield closed in 2011, the Berkshire Athenaeum acquired the books, finding aids, and microfilm collection of that branch. The microfilm collection includes US & State census records, naturalization indexes, compiled service records for Revolutionary war solders, Revolutionary war pension and bounty-land warrant applications, index to New England naturalization petitions from 1796 to 1906, ship manifests, and more.
The Athenaeum is also a FamilySearch affiliate library providing access to many FamilySearch databases that are only accessible at a center. Kathy's presentation will pique your interest and help you to maximize a research trip there.
Please note that due to the Independence Day holiday, our July meeting will be held on July 10th at 6:30pm in the Veterans' Room at the Agawam Senior Center.