Training: Be a Good Ancestor!
Thursday, January 23, 2020 from 6:00 pm

-

8:00 pm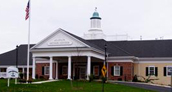 How many of us wish that our ancestors left more information or clues about their daily lives! Learn how you can be a better ancestor for your family. We'll cover some of the simple techniques that will help you to leave a lasting legacy beyond just names and dates in your database. Topics will include what to do with photos, easy ways to record memories, creating a short biography, identifying family heirlooms and treasures, organizing your research, interviewing techniques and questions, and creating a plan for your legacy after you're gone. And we'll discuss a few ideas to get the younger generation involved. None of this costs much money, nor does it take much time.
Join hosts Jeanne Leblond and Carol Lynne Bagley for this fun training.
SIGs and trainings are held from 6 pm to 8 pm in the Handcraft Room at the Agawam Senior Center. The Handcraft Room is located on the 1st floor at the end of the hallway, to the left of the reception desk.
Feel free to bring your laptops, as the Agawam Senior Center is wi-fi equipped.
Please join us!