Training: Genealogy Writing Workshop
Thursday, February 20 from 6:00 pm

-

8:00 pm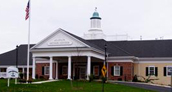 Interested in writing about your ancestors, but not sure where to start? Or are you
thinking about writing your own story to pass down to your family? Join us for
an evening of writing exercises designed to get your pen moving (or fingers
typing). Host Joanne Mason will guide us through several audiovisual prompts,
including photographs and music, to see where our thoughts take us on paper.
After each prompt, we'll write for 10 minutes, then share what we've written.
(Note: Sharing is not required! You are more than welcome to just listen.) The
goal of this workshop isn't to complete a story or polish the grammar and punctuation. Instead, we'll be working on nuggets to take home.
Please bring a notebook and pen. If you prefer typing on a laptop or tablet, that's fine too.