The Western Massachusetts Genealogical Society has been an organization since 1972 and we have been bringing quality programming to all of our members since our start. As a group and as individuals we are devoted to the research and documentation of our family ancestry and history. We also assist others in the pursuit of discovering their ancestry.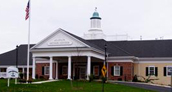 Monthly Meetings: We meet year-round on the first Wednesday of the month from 6 to 8 p.m. at the Agawam Senior Center, located at 954 Main Street, Agawam. Our calendar and membership year is from September through August.
Speakers: The Society, since its beginning, has always engaged local, regional and nationally known speakers who share their broad experience to educate us and improve our research skills. Thanks to a strong inner circle of Genealogists, we have been able to get local speakers as well as national speakers in the field of genealogy. By using technology such as Zoom Online Meetings, we have brought national speakers to our meetings in Agawam.
Watch our meetings online: As stated by our president, Dave Robison, "Our primary goal in working so hard on the 'virtual meeting' technology is to bring premium programs to our Agawam meetings as a benefit to you, the members of WMGS. The speakers are from all over the US and could even be in Europe, Australia…just about anywhere there's an internet connection. We have virtual presentations archived in our Members Only section of the website. We intend to perfect the techniques to the extent that all our meetings will be in a format to make them available to all of our paid membership all the time."
Listen to Local and National Speakers: One local speaker spoke to us on "Researching your French-Canadian Ancestors" and another, our own Hillary Schau spoke to us on "Organizing Your Genealogy Research". Two of our national speakers, Maureen Taylor and Russ Worthington spoke to us from their own homes on the big screen. Russ Worthington spoke to us on the use of City Directories while Maureen Taylor, the Photo Detective, gave us hints on what to look for in old photos. Make sure you check out our Newsletter for future speakers and their topics.
Network and Talk with Fellow Members: The monthly meetings are not all about the speakers though. Some of our past programs have been binder workshops which help members organize their work and understand the importance of citing the various sources. We also have had panel discussions, show and tell, open mic night, and field trips. The panel discussions are very popular because it gives members a chance to ask questions to our more experienced members. The open mic lets members talk about their research while the exclusive field trips allow members a chance to do some research at the Genealogy Library at the Springfield Museums.
Genealogy Research Clinics: Over the past couple of years we have added several Genealogy Research Clinics to our monthly schedule to help with your family research.
Our Research Clinics meet on the third and fourth Thursdays from 6 to 8 p.m. in the Computer Lab at the Agawam Senior Center.
Besides expanding our Clinics to give you more time to search we've added The Library Edition of Ancestry.com as a tool for research.
When you attend you'll find that those assisting you have years of experience in research and are extremely knowledgeable in the process

The Western Massachusetts Genealogical Society Board of Directors for 2019-2020 year is comprised of the following individuals.
| | | |
| --- | --- | --- |
| Position | Name | Term |
| President | Jeanne Leblond | 2019 – 2021 |
| Vice President | Dave Lapierre | 2019 – 2020 |
| Treasurer | Deb Woodford | 2019 – 2021 |
| Assistant Treasurer | Jeanne Lockhart | 2019 – 2020 |
| Secretary | Dorothy Cichonski | 2019 – 2020 |
| Director | Hillary Schau | 2019 – 2021 |
| Director | Carol Lynne Bagley | 2019 – 2020 |
| Director | Terry Pearson | 2019 – 2021 |